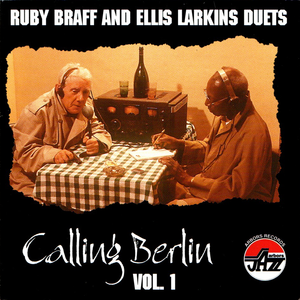 Ruby Braff and Ellis Larkins: Calling Berlin, Vol. 1
Arbors Records
ARCD: 19139
Regular price $10.00 Sale
Ruby Braff: Cornet
Ellis Larkins: Piano

"The two resolute undercover agents shown in the photograph that illustrates this collection were not, as you may have assumed, engaged in ensuring the downfall of the Third Reich. They were, in fact, paying tribute to Berlin, the great American songwriter, Irving Berlin, whose songs they intended recording that day...Ruby Braff and Ellis Larkins first recorded together in 1955. They got together again in 1972. Now here they are once more, twenty two years later, still going strong like Scotland's famous Johnny Walker."
—Stanley Dance, author of The World of Swing

Selected by John Norris as a Writers' Choice record for 1995 in Coda Magazine. Selected by Ira Gitler and Jack Sohmer as a Critics Pick for 1995 in JazzTimes. Selected by Gary Giddins as one of the best records of 1995 in the Village Voice.
Selections:
It's A Lovely Day Today
Blue Skies
Alexander's Ragtime Band
I'm Putting All My Eggs In One Basket
How Deep Is The Ocean?
Soft Lights And Sweet Music
Let's Face The Music And Dance
My Walking Stick
Russian Lullaby
You're Laughing At Me
This Year's Kisses
Top Hat, White Tie and Tails
They Say It's Wonderful
Steppin' Out With My Baby
Easter Parade