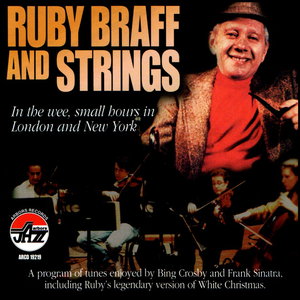 Ruby Braff and Strings: In the Wee Small Hours in London and New York
Arbors Records
ARCD: 19219
Regular price $10.00 Sale
THIS CD IS OUT OF PRINT AND
AVAILABLE BY DIGITAL DOWNLOAD ONLY
For digital download of this CD, visit your preferred digital download website such as iTunes, Amazon Music, Google Play and More!
---
London:
Ruby Braff: Cornet
Brian Lemon: Piano
Len Walker: Guitar
Lennie Bush: Bass
Terry Jenkins: Drums
Music arranged and conducted by Neil Richardson, The Neil Richardson Strings, led by Sidney Sax.
New York:
Ruby Braff: Cornet
John Bunch: Piano
Bucky Pizzarelli: Guitar
Michael Moore: Bass
Kenny Washington: Drums
Robert Chauson: Violin
Michael Roth: Violin
Adria Benjamin: Viola
Sarah Hewit: Cello
Music arranged and conducted by Tommy Newsom

"The jazz faithful need no introduction to the genius of Ruby Braff. His unique sound, with its remarkable command of the low register, its soaring and descending leaps, blazing runs and its mixture of playful enthusiasm and thoughtful lyricism, was thrilling two decades ago and it is intact today, with an added richness that has come with maturity. Fiddles have never kept better company."
—Charles Champlin, jazz critic and retired Arts Editor of the Los Angeles Times. 
Four and a half stars - John McDonough, Down Beat, June, 2000
Selections:
Swinging on a Star
Pennies From Heaven
Love Walked In
Old Folks
Goodnight, My Love
Moonlight Becomes You
I Married an Angel
Please
Love Thy Neighbor
April in Paris
Go Fly a Kite
In the Wee Small Hours of the Morning All Alone
I Get Along Without You Very Well
You're Sensational
Too-Ra-Loo-Ra-Loo-Rai
My Heart Stood Still
White Christmas