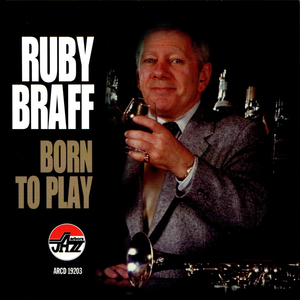 Ruby Braff: Born to Play
Arbors Records
ARCD: 19203
Regular price $10.00 Sale
THIS CD IS AVAILABLE BY DIGITAL DOWNLOAD ONLY
For digital download of this CD, visit websites such as iTunes, eMusic and other similar digital download websites.
Ruby Braff: Cornet, Vocal
Kenny Davern: Clarinet
Howard Alden: Guitar
Bucky Pizzarelli: Guitar
Jon Wheatley: Guitar
Michael Moore: Bass
Marshall Wood: Bass
Jim Gwin: Drums

"No one these days would, I think, dream of comparing Ruby with anybody else. He is of that handful of horn players past and present whose style is so personal, distinctive and instantly recognizable, that it can only evoke Ruby Braff himself. His mastery of the cornet«s cello-like low register, his swift and effortless runs and rising and falling arpeggios (his uniquely thoughtful virtuosity), his gently staccato accents and his quiet lyricism all conspire to make Braff inimitable. At that, and inevitably, the guiding light of the album is Ruby Braff himself, who conceived the unique instrumentation and created the charts, and whose mellow horn has never sounded happier and more youthful. There is a kind of audible serenity, the sense that you are hearing a superb all-tempo player surrounded by chosen and gifted friends and doing what he likes best in the world, making beautiful jazz music for all to enjoy.? 

—Charles Champlin is the retired art editor of the Los Angeles Times who writes often about jazz.
Selected as one of six favorite jazz recordings for 1999 by The New Yorker and one of the best 10 albums of 1999 by Bob Blumenthal of The Boston Globe; selected as a 1999 Critics« Choice in Jazz Journal International by Alun Morgan, Sally-Ann Worsfold, Peter Vacher and Steve Voce and as one of the top 10 jazz records of 1999.
Selections:
Avalon
The Doodle King
Medley: Smile; La Violettera
Think
Jive at Five
I Want a Litle Girl
I'm Shooting High
Born to Lose