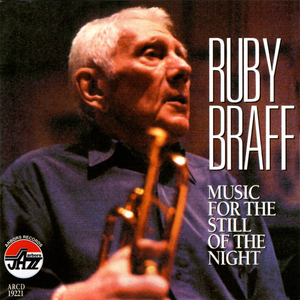 Ruby Braff: Music For The Still Of The Night
Arbors Records
ARCD: 19221
Regular price $10.00 Sale
THIS CD IS OUT OF PRINT AND
AVAILABLE BY DIGITAL DOWNLOAD ONLY
For digital download of this CD, visit your preferred digital download website such as iTunes, Amazon Music, Google Play and More!
---
Ruby Braff: Cornet
John Bunch: Piano
Howard Alden: Guitar
Michael Moore: Bass
Kenny Washington: Drums
"The present set is a collection of 10 standards of the sort Braff has played for years, but with a difference: Braff considers this the best work he's yet done for Arbors, which he in turn considers the best body of work of his career on any label... He's an oddity among jazz musicians, one whom any composer would want to hear play his songs. He seems to respect the material as much as the manner: And that makes him that rarest of all artists, a jazz musician in whose style melody and improvisation coexist as equal partners."
—John McDonough, esteemed jazz critic who writes for Down Beat and The Wall Street Journal.
Selections:
Thinking of You
Can't We Be Friends
Willow Weep For Me
When It's Sleepy Time Down South
I Wished on the Moon
Linger Awhile
Looking at You
I Don' Stand a Ghost of a Chance With You
Fly Me to the Moon (In Other Words)
These Foolish Things (Remind Me of You)