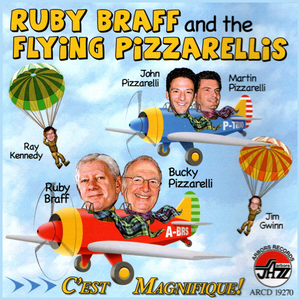 Ruby Braff and the Flying Pizzarellis: C'est Magnifique!
Arbors Records
ARCD: 19270
Regular price $10.00 Sale
Ruby Braff - cornet
Bucky Pizzarelli - guitar
John Pizzarelli - guitar, vocal (tracks 8 and 9)
Ray Kennedy - piano
Martin Pizzarelli - bass
Jim Gwinn - drums
The Oo-La-La Singers (track 5): Rachel Domber, Daryl Sherman, Adam and Dan Morgenstern, Al Lipsky, Gail and Ross Firestone

This recording proved to be Ruby's last studio recording for Arbors Records. He took sick while touring in Scotland in August 2002 and passed away on February 9, 2003. Ruby left us a legacy represented by his uncompromising standards, musical taste, creative imagination and consummate artistry —nice tunes, beautifully played. He achieved what only some musicians ever accomplish by developing a unique and immediately recognizable style. His standards and dedication were legend. After all, he wanted to be remembered for his music, not for his life.
—From the album notes by Tom Hustad, author of Born to Play: The Ruby Braff Discography and Performance Directory, to be published by Scarecrow Press.

Selections:
Lulu's Back in Town, Was I to Blame for Falling in Love with You?, You're a Lucky Guy, When a Woman Loves a Man, C'est Magnifique!, My Honey's Lovin' Arms, I Didn't Know What Time It Was, They Can't Take That Away From Me, As Time Goes By, Sometimes I'm Happy, Dancing On the Ceiling