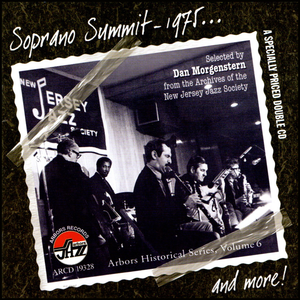 Soprano Summit - 1975 and more!
Arbors Records
ARCD: 19328
Regular price $10.00 Sale
THIS CD IS OUT OF PRINT AND
AVAILABLE BY DIGITAL DOWNLOAD ONLY
For digital download of this CD, visit your preferred digital download website such as iTunes, Amazon Music, Google Play and More!
---
Arbors Historical Series, Volume 6
A Specially Priced Double CD

CD 1
The Soprano Summit, April 20, 1975
Kenny Davern, Bob Wilber, Marty Grosz, George Duvivier, Connie Kay
CD 2
The Soprano Summit, April, 1975 with Dick Hyman
The Blue Three, March 23, 1979
Kenny Davern, Dick Wellstood, Bob Rosengarden
The Ruby Braff/Bob Wilber Session January 18, 1976
Ruby Braff, Bob Wilber, Wayne Wright, George Duvivier, Fred Stoll
Soprano Summit in 1975 and More
Selected by Dan Morgenstern from the Archives of the New Jersey Jazz Society
It's been decades since the New Jersey Jazz Society entrusted its precious early tapes to the Institute of Jazz Studies. While we were happy to provide a safe and protective environment, it was a bit frustrating not to be able to share the not inconsiderable amount of great music with the world. To say that we«re off to a good start would be an understatement. One would be hard put to find a better performance by Soprano Summit than the one contained herein Ð when I had the pleasure of seeing Bob Wilber at the Benny Carter Centennial celebration at Lincoln Center, his first words, after we hugged, were to ask if I had heard it, and if I agreed that it was extraordinary. There is also a notable encounter between Ruby Braff and Bob Wilber and a relaxed and inspired 1979 set by the Blue Three, which is a great find and a precious addition to their recorded legacy. From the album notes by Dan Morgenstern, Director of the Rutgers Institute of Jazz Studies.

Selections:
CD 1 with the Soprano Summit
Swing Parade/The Mooche/Oh Sister, Ain't That Hot/Steal Away/Linger Awhile/Panama/Song of Songs/Swing Thirty Nine/Egyptian Fantasy/The Fish Vendor
CD 2 The Soprano Summit with Dick Hyman
Kansas City Stomp/Original Jelly Roll Blues/Froggie Moore/Shreveport Stomp/Sidewalk Blues
The Blue Three with Kenny Davern, Dick Wellstood and Bob Rosengarden
C.C. Rider/Fidgety Feet/Sweet Substitute/Shim-me-sha Wabble