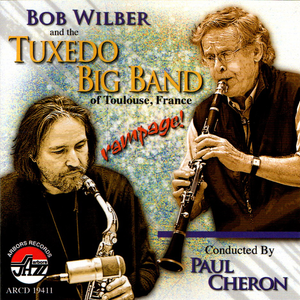 Bob Wilber and the Tuxedo Big Band, Led by Paul Cheron: Rampage!
Arbors Records
ARCD: 19411
Bob Wilber: clarinet, sopprano sax, alto sax
Trumpets: Nicolas Gardel, Mathieu Haage, Jerome Etcheberry, Benjamin Fernandez
Trombones: Olivier Lacherie, Cyril Dubile, Sebastien Arruti
Reeds: Paul Cheron- lead alto sax, clarinet, Stephane Lourties- alto sax, clarinet, Francois Penot- tenor sax, clarinet, Stephane Barbier- tenor sax, Gael Pautric- clarinet, Pierre-Andre Cuxac- baritone sax, clarinet, bass clarinet
Guitar: Henri Cheron
Piano: Didier Datcharry
Bass: Pierre-Luc Puig
Drums: Guillaume Nouaux
All arrangements by Bob Wilber

This CD features Bob and the Tuxedos in a very special program of Wilber arrangements, mostly of his own compositions, many of them newly minted. The youthful octogenarian of course also joins in as a soloist, on not only his main voices, clarinet and the straight and curved soprano sax, but also on the rather seldom heard alto. The band and Bobby share a love for big band jazz that reflects the musical values of the Swing Era, but the conviction and enthusiasm they bring to their work makes the music sound fresh, not "retro." Thank you, Bob Wilber, for still making great music, a mere 64 years after your recording debut!
—From the notes byDan Morgenstern, Director of the Institute of Jazz Studies at Rutgers University.