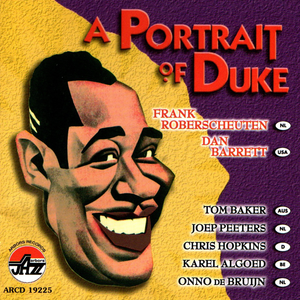 A Portrait of Duke ...The International All-Star Band!
Arbors Records
ARCD: 19225
Regular price $10.00 Sale
Frank Roberscheuten (Netherlands) Co-Leader, Clarinet, Alto, and Tenor Saxophones
Dan Barrett (USA) Co-Leader, Trombone, Valve Trombone, Cornet
Tom Baker (USA/Australia) Cornet, Trombone, Tenor and Alto Saxophones
Joep Peeters (Netherlands) Baritone and Alto Saxophones, Vocals
Onno de Bruijn (Netherlands) Drums, Maracas
Karel Algoed (Belgium) Bass
Christian Hopkins (USA/Germany) Piano

"The Ellington Centennial ... focused new attention on the maestro and inspired a welcome flurry of releases -- both reissues and newly recorded tributes. In the wake of this activity, one would be hard-pressed to conceive a fresh approach for another Ellington project. Yet this truly international ensemble of accomplished players has managed to do just that through its varied repertoire (covering four decades of Ellingtonia), imaginative arrangements and inventive solos."
—Ed Berger, Associate Director of the Institute of Jazz Studies at Rutgers University.
Selections:

Take The "A" Train
Swing Pan Alley
I Didn't Know About You
Subtle Slough
The Jeep is Jumpin'
Moonlight Fiesta
Ballad Medley: In a Sentimental Mood; I Got It Bad and That Ain't Good; Solitude
In a Mellotone
The Mooche
Love's in My Heart
Mood Indigo
Thing's Ain't What They Used to Be
Squaty Roo
Pitter Panther Patter
East St. Louis Toodle-Oo
Happy Reunion
C Jam Blues