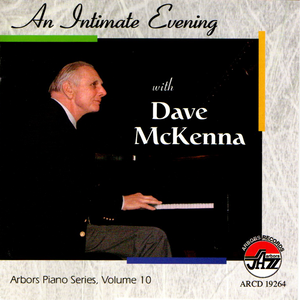 An Intimate Evening with Dave McKenna
Arbors Records
ARCD: 19264
Regular price $10.00 Sale
Dave McKenna, solo piano
Dave McKenna again showed his understated technique, as well as his love of melody from which he seldom strays too far. The audience at the concert was filled with musicians, something which usually happens at his appearances. They always come to hear his wonderful way of phrasing; how he often re-writes the song without losing the melody; his many medleys (he perhaps knows more medleys than any other living pianist today); his marvelous left hand, always unpredictable, ranging from single notes, through full chords and stride and everything in between. Some of the songs he plays here he has recorded before but it really doesn't matter because every time Dave plays a song it is totally different. A change in keys, tempo and phrasing, all of which makes it very exciting to hear Dave play.
—From the album notes by Producer, Gunnar Jacobsen, who recently retired as President of the International Association of Jazz Record Collectors.

"From the opening Original Dixieland Jazz Band romp "Fidgety Feet" to the dreamlike "It's The Last Dance," Mr. McKenna's orchestral piano is so fulfilling and sometimes overwhelming that, after the concert, a woman told the soloist he had moved her to tears. "I played that bad," he said, smiling. Having listened to the recording often, I find that Mr. McKenna lifts me above the turmoil of global news to a touch of hope for the human condition."
—Nat Hentoff, The Wall Street Journal, May 10, 2002
Selections:
Fidgety Feet, Thought Medley: I Had The Craziest Dream, Thinking of You, The Very Thought of You, Change Medley: There'll Be Some Changes Made, Change Partners, You've Changed, Tea For Two, Street Medley: Easy Street, Broadway, Forty-Second Street, Beale Street Blues, On Green Dolphin Street, Basin Street Blues, Don't Forget 127th Street, On the Street Where You Live, It's The Last Dance