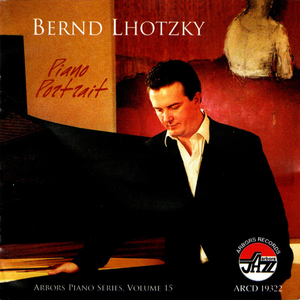 Bernd Lhotzky: Piano Portrait
Arbors Records
ARCD: 19322
Regular price $10.00 Sale
THIS CD IS OUT OF PRINT AND
AVAILABLE BY DIGITAL DOWNLOAD ONLY
For digital download of this CD, visit your preferred digital download website such as iTunes, Amazon Music, Google Play and More!
---
Bernd Lhotzky - solo piano
"He can boast an impressive musical pedigree and has played with a long list of jazz greats, including Ralph Sutton and Dick Hyman. He has also acquired vast musical experience arranging and composing for theater music and movies in Germany. As you will hear quite clearly, Bernd«s playing has gained complete maturity. His command of the keyboard is impressive, the touch and the nuances totally under control. His ideas are fresh and evocative, his execution flawless. The harmonies and rhythm are varied, the tempos strong with a gentle swing - everything seems to be so easy and effortless."
—Louis Mazetier, himself an accomplished pianist and recording artist—one of the greatest living exponents of stride and classic jazz piano

Selections:
Rippling Waters, The Old Guide's Story, The Legend of Lonesome Lake, Down Stream, The Land of The Loon, A Dirge for Joe Indian, Lumber-Jack Dance, Russian Lullaby, There Was Nobody Looking, Caprice Rag, I Cover the Waterfront, What Is This Thing Called Love, Old Folks, Passionette, Echo of Spring, The Jitterbug Waltz, Keepin' Out Of Mischief Now, I«ll See You In My Dreams, I Don't Stand a Ghost of A Chance With You, Jubilee, I'm Coming Virginia, Fussin', Fading Star