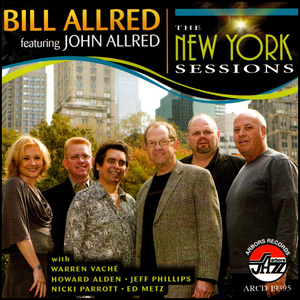 Bill Allred: The New York Sessions featuring John Allred
Arbors Records
ARCD: 19395
Regular price $10.00 Sale
THIS CD IS OUT OF PRINT AND
AVAILABLE BY DIGITAL DOWNLOAD ONLY
For digital download of this CD, visit your preferred digital download website such as iTunes, Amazon Music, Google Play and More!
---
Bill Allred: trombone, vocal on track 6
Jeff Phillips: piano, Hammond B3 organ on tracks 7 and 9
Howard Alden: guitar, banjo on track 11
Nicki Parrott: bass except on tracks 7 and 9; vocal on track 6
John Allred: trombone on tracks 1, 4, 8 and 12; tuba on track 11
Warren Vache: cornet on track 5 and 13
Ed Metz: drums
Bill Allred leads a mainstream jazz journey featuring his son, John, and an all-star collection of musicians in the different styles that he enjoys playing..."As long as I have my health and can play, I want to continue. It's a good life," says Bill. And musically, with New York Sessions as his latest accomplishment, it continues to be a great life.
Selections:
Lullaby of Broadway
Liza (All the Clouds«ll Roll Away)
Don't Worry 'bout Me
Day by Day
Davenport Blues
I Want to Be a Sideman
Red Top
Always
This Can't Be Love
Angel Eyes
Muskrat Ramble
Ida! Sweet As Apple Cider
Sweet Sue-Just You