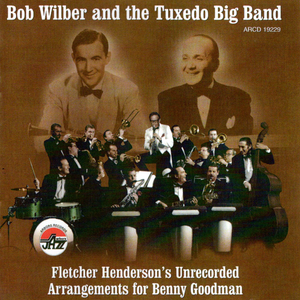 Bob Wilber and the Tuxedo Big Band of Toulouse, France
Arbors Records
ARCD: 19229
Regular price $10.00 Sale
THIS CD IS OUT OF PRINT AND
AVAILABLE BY DIGITAL DOWNLOAD ONLY
For digital download of this CD, visit your preferred digital download website such as iTunes, Amazon Music, Google Play and More!
---
"A lot of good records come out every year, but very few of them could be called an event. This one can. An unearthed treasure trove of arrangements written by Fletcher Henderson for Benny Goodman but never previously recorded now brought to life by Bob Wilber and a swinging big band filled with first-rate soloists—well, that's not the sort of thing that happens every day."
—Ross Firestone, author of the award-winning Swing, Swing, Swing: The Life and Times of Benny Goodman.

If a tenth Beethoven symphony or a second Gershwin rhapsody turned up, we would hear about it quickly enough. This album offers something every bit as important within the realm of jazz orchestration—16 lost (or at least mislaid) arrangements by the most important single figure outside of Ellington in the history of the jazz orchestra, Fletcher Henderson. Wilber and the Tuxedo band have set out to bring an unexpected freshness to the legendary Henderson-Goodman partnership and have hit the mark to five-star perfection.
—John McDonough, Down Beat, December 2000
Selections:
Rose of the Rio Grande
Blue (and Broken Hearted)
Song of the Wanderer
Out of Nowhere
Humoresque
Poor Butterfly
Rosalie
All My Life
Thou Swell
She's Funny That Way (I Got a Woman, Crazy for Me)
Sunday
Sweet Lorraine
S'posin'
Sugar
Sweet and Slow
Milenberg Joys
Bojangles of Harlem