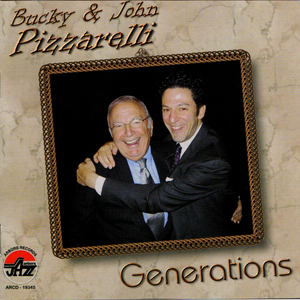 Bucky and John Pizzarelli: Generations
Arbors Records
ARCD: 19345
Regular price $10.00 Sale
Musicians:
Bucky Pizzarelli-guitar
John Pizzarelli-guitar
"The result of this CD, to me, was more interesting than either of us planned and the title, Generations turned out to be perfect. What this CD had become is a small tribute to those musicians and even in a wonderful way, our family, whose love and support have been the backbone for long trips away from home, a calming voice during pre-gig jitters and one of the essential things that keeps the music swinging." —John Pizzarelli
Selections:
Fred, Polka Dots and Moon Beams, Rose Room, Midnight Sun, A Sleepin' Bee, At Sundown, I'll Remember April, The Second Movement of Sonatina, Darn That Dream, Avalon, Early Autumn, Graham Avenue Stroll, How Long Has This Been Going On, The Way You Look Tonight, Variation and Fugue #9 on "La Folia"