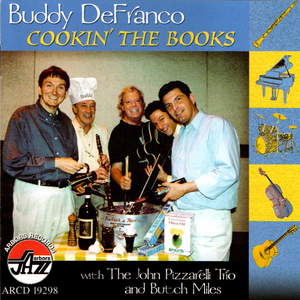 Buddy DeFranco: Cookin' The Books, with John Pizzarelli Trio and Butch Miles
Arbors Records
ARCD: 19298
Regular price $10.00 Sale
THIS CD IS OUT OF PRINT AND 
AVAILABLE BY DIGITAL DOWNLOAD ONLY
For digital download of this CD, visit your preferred digital download website such as iTunes, Amazon Music, Google Play and More!
---
Buddy DeFranco; clarinet
John Pizzarelli; guitar
Martin Pizzarelli; bass
Ray Kennedy; piano
Butch Miles; drums
Buddy DeFranco joins with the popular John Pizzarelli Trio and Butch Miles to prove that he is still "Mr. Clarinet." Swinging from start to finish, DeFranco shows that same dexterity and musical passion that made him a pioneer in exploring the clarinet for be-bop and one of the all time clarinet greats. The John Pizzarelli Trio, another paragon of swing, and Butch Miles, who has swung the Count Basie Orchestra for many years, provide the rhythmic base, and John Pizzarelli adds two vocals in his crowd-pleasing way.
Awarded John Ephland, DownBeat, May 2004

Selections:
Softly As In a Morning Sunrise, Prisoner of Love, What is This Thing Called Love, Cookin' The Books, I Lost The Blues, East of The Sun, Dancing in The Dark, Poor Butterfly, Gone With the Wind, Scrapple From the Apple