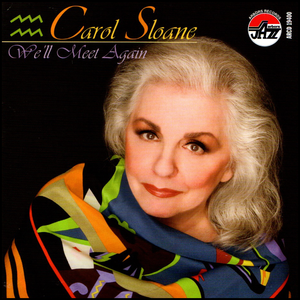 Carol Sloane: We'll Meet Again
Arbors Records
ARCD: 19400
Regular price $10.00 Sale
Carol Sloane - vocals
Ken Peplowski - clarinet, tenor sax
Bucky Pizzarelli - guitar
Steve LaSpina - bass
Carol excels in a special rendition of timeless love songs. "Whenever Carol sings, her voice has a transfixing quality that commands full attention. The magic rests in her warm, swinging delivery. With a breathy vibrato, Carol's voice smolders with tenderness and seduction, like Lester Young's horn. Her approach is so intimate and confessional that you're often left feeling as though you've just been told a lover's secret."
—Marc Myers, who writes and edits JazzWax.com, one of the Internet's most popular daily jazz blogs.
Selections:

Exactly Like You
Something To Remember You By
Anytime, Anyday, Anywhere
I Haven't Got Anything Better To Do
If You Could Love Me
Why Don't You Do Right
The Meaning of The Blues
Zoot Walks In
Where Are You?
Spring Will Be a Little Late This Year
A Cottage for Sale
I Never Loved Anyone
We'll Meet Again