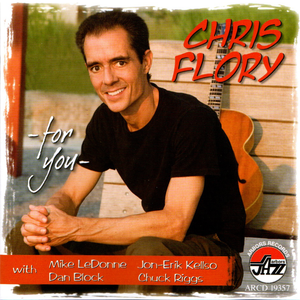 Chris Flory: For You
Arbors Records
ARCD: 19357
Regular price $10.00 Sale
THIS CD IS OUT OF PRINT AND
AVAILABLE BY DIGITAL DOWNLOAD ONLY
For digital download of this CD, visit your preferred digital download website such as iTunes, Amazon Music, Google Play and More!
---
Chris Flory-guitar
Mike LeDonne-organ
Dan Block-tenor sax
Jon-Erik Kellso-trumpet
Chuck Riggs-drums
Master guitarist Chris Flory, who first came to the fore as a member of Scott Hamilton's groups and later gained experience with such great veterans as Buddy Tate, Illinois Jacquet, Hank Jones, Jo Jones, Roy Eldridge, Ruby Braff, Rosemary Clooney and Maxine Sullivan and by gigging with the Benny Goodman Sextet from 1978 until '83, makes his swinging Arbors Records debut. —Notes by Ira Gitler. 
Selections:
J H Blues, For You, For Me, Forever More, Swinging at The Daisy Chain, The Lamp Is Low, I Want a Little Girl, Three Little Words, Bean-O, Young and Foolish, A Beautiful Friendship, Vignette, Mister Goodbeat