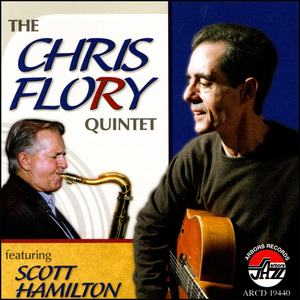 Chris Flory Quintet Featuring Scott Hamilton
Arbors Records
ARCD: 19440
Regular price $10.00 Sale
THIS CD IS OUT OF PRINT AND
AVAILABLE BY DIGITAL DOWNLOAD ONLY
For digital download of this CD, visit your preferred digital download website such as iTunes, Amazon Music, Google Play and More!
---
Scott Hamilton-tenor sax
Chris Flory-guitar
Larry Ham-piano
Lee Hudson-bass
Chuck Riggs-drums
Guitarist Chris Flory was there in the '70s as one of the young musicians playing mainstream swing and, as part of that generation, he has kept the legacy of mainstream swing guitar alive while simply playing in his own musical personality. One of the top straight ahead guitarists of the past 35 years, throughout this CD, in this reunion with Scott Hamilton, Chris Flory brings out the best in Scott and vice versa, making this disc one of the high points of their recent careers.
—From the album notes by Scott Yanow, author of 10 books on jazz, whose upcoming book, The Jazz Guitarists, includes Chris Flory among the 341 guitarists profiled.
Selections:

The Lady's in Love With You
Girl Talk
Hit and Run
Born to Be Blue
Who Cares?
After Hours
Moonlight in Vermont
Happy Feet
Isn't it a Lovely Day?
Perdido