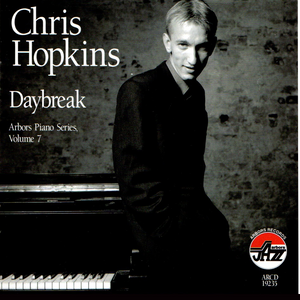 Chris Hopkins: Daybreak
Arbors Records
ARCD: 19235
Regular price $10.00 Sale
THIS CD IS OUT OF PRINT AND 


AVAILABLE BY DIGITAL DOWNLOAD ONLY
For digital download of this CD, visit your preferred digital download website such as iTunes, Amazon Music, Google Play and More!
---
Chris Hopkins: Solo Piano
Introducing to American audiences a brilliant young German pianist, Chris Hopkins, whose swing-oriented and stride-inspired piano playing finds its roots in Earl "Fatha" Hines, Teddy Wilson and Jess Stacy, as well as in the stridemasters of Harlem, James P. Johnson, Fats Waller and Willie "The Lion" Smith. "Chris Hopkins," Dan Barrett enthuses, "is one of the most talented young piano players I've heard. I just flipped when I first heard him because he«s not yet out of his twenties and, although his playing reflects his study of the men who created jazz piano, he brings his own ideas to the table." 
Selections:

Cheek to Cheek
Keepin' Out of Mischief Now
Hallelujah!
Daybreak
A Good Man Is Hard To Find
Caution Blues
Swampy River
Medley: I've Got a Feeling I'm Falling, I've Got a Feelin', You're Foolin'
Hopcat
I Cover the Waterfront
If Dreams Come True
Sunny Morning
Serenade in Thirds
Fine and Dandy
The Mooche
Dancers in Love
Candlelights
Fussin'
Blues for Jess