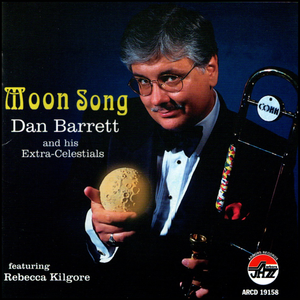 Dan Barrett and his Extra-Celestials with Special Guest Rebecca Kilgore:
Arbors Records
ARCD: 19158
Regular price $10.00 Sale
Dan Barrett: Leader, arrangements, trombone, cornet, vocal
Rebecca Kilgore: Vocals, acoustic guitar
Bryan Shaw: Trumpet, cornet
Dave Frishberg: Piano, celeste
Scott Robinson: Clarinet, tenor sax, bass sax, alto sax
Brian Ogilvie: Clarinet, Tenor Sax
Chuck Wilson: Alto Sax, flute
Bucky Pizzarelli: Guitar
Joel Forbes: Bass
Jeff Hamilton: Drums
"Dan Barrett has once more put together a swing session which is neither buried in the past nor draped over today's trendy jazz cliches. Rather, it just glows in the light of a timeless and inspired musicianship...Rebecca Kilgore has gradually refined her vocal gifts and stands now, I believe, as a leading interpreter of America's classic popular songs. Her easy, musicianly way of bringing forth each tune's best qualities is very special, carefully nurtured artistry."
—Dick Hadlock, author of Jazz Masters of the Twenties and host of The Annals of Jazz, on KCSM-FM San Mateo, California.

Selected as a 1998 Critics Picks in the March, 1999 issue of JazzTimes by Nancy Ann Lee. Selected as one of Meilleurs Disques Chroniques en 1999 by Le Hot Club de France Federation and selected as a 1999 Critics' Choice in the February, 2000 issue of Jazz Journal International by Floyd Levin, Martin Richards and Hugh Rainey
Selections:
Moon Song
Scratch My Back
Georgianna
With a Smile and a Song
Miss Brown to You
Time on My Hands
With 'Em
Mound Bayou
I'll Never Say "Never Again? Again
I Surrender, Dear
My Gal Sal
Got a Date With an Angel
Mama, That Moon is Here Again