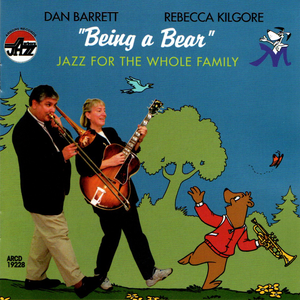 Dan Barrett and Rebecca Kilgore: Being a Bear - Jazz for the Whole Family
Arbors Records
ARCD: 19228
Regular price $10.00 Sale
THIS CD IS OUT OF PRINT AND
AVAILABLE BY DIGITAL DOWNLOAD ONLY
For digital download of this CD, visit your preferred digital download website such as iTunes, Amazon Music, Google Play and More!
---
Musicians:
Dan Barrett - leader, trombone and vocals
Spanky Davis - trumpet, vocals
Jim Galloway - soprano sax, baritone sax
Scott Robinson - clarinet, baritone sax, bass sax, bass clarinet, alto sax
John Sheridan - piano
Paul Keller - bass
Jeff Hamilton - drums
Rebecca Kilgore - vocals, guitar
"There is so much that I love about this recording: the warmth, the heart, the buoyancy. And the fact that it is jazz that adults can enjoy right along with the very youngest members of our society. I know that last statement to be true because I«ve "test marketed" this recording with my nephew Max Deffaa. He«s not yet three years old, but he can clearly appreciate Dan Barrett and company«s cheerfully swingin« renditions."
—Chip Deffaa. Chip is the jazz critic of the New York Post and author of eight books on jazz subjects. 
Selections:
Being a Bear
The Jam Song
The Music Goes Round and Round
This Old Man
Copey's Lament
Sing, Sing, Sing
Ursa the Blues
Mama Don't Allow
Animation
You Must Have Been a Beautiful Baby
Swingin' in the Dell
Rhythm in My Nursery Rhymes
The Isle of Capri
At the Jazz Bears Jamboree
Little Man, You've Had a Busy Day