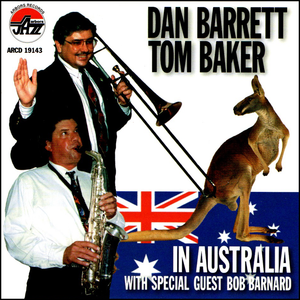 Dan Barrett and Tom Baker In Australia
Arbors Records
ARCD: 19143
Regular price $10.00 Sale
Dan Barrett: Trombone, Trumpet
Tom Baker: Tenor Saxophone, Alto Saxophone, Cornet
Chris Tapperell: Piano
Ian Date: Guitar
Don Heap: Bass
Lynn Wallis: Drums
Special Guest Bob Barnard: Cornet

"Jazz is obviously now an International music. What a joy it is to be associated with such remarkable talents as are on the Dan Barrett/Tom Baker session. There's still plenty of inspiration and creativity to be heard in this celebration of the rich tradition of jazz of a golden era."
—Jim McLeod, whose "Jazztrack on the Australian Broadcasting Corporation, is the only national radio show in that country.
Selections:


Vignette
Fore!
Then I'll Be Tired of You
See If I Don't
After I Say I'm Sorry (What Can I Say?)
It«s Like Reaching For the Moon
That's A-Plenty
Nobody Knows
Just Ducky
Indian Summer
Oh, Lady Be Good!
Overtime
Jug
Dynaflow
Through For the Night