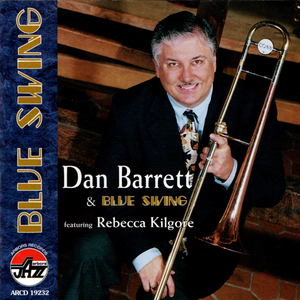 Dan Barrett: Blue Swing, featuring Rebecca Kilgore
Arbors Records
ARCD: 19232
Regular price $10.00 Sale
Jon-Erik Kellso
Brian Ogilvie
John Smith
Eddie Erickson
Joel Forbes
Ray Sherman
Jeff Hamilton
After having played concerts, festivals and parties as a soloist in recent years with many of the top jazz players in the world, Dan Barrett has hand picked a band out of his favorites among them. The result is Blue Swing, a collection of brilliant individuals who have developed the cohesion and that rare combination of relaxation and precision achieved only by the great jazz organizations. "If this CD doesn't earn them a solid place on the new-millennial jazz scene, we«re in trouble."
—Jim Leigh, a novelist and journalist whose monthly column "West Coasting" appears in the Mississippi Rag.

Selections:
Victory Stride
Saturday Night Function
Christopher Columbus
Can This Be Love?
Russian Rag
Love Potion no. 9
Wedding Bell Blues
Song of the Wanderer
Nuages
C'est Si Bon
Ray's Waltz
Saratoga Shout
I Can't Face the Music
I Never Knew