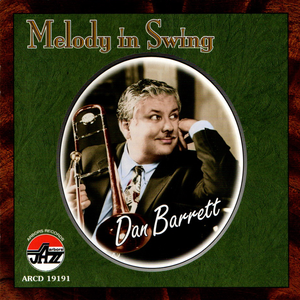 Dan Barrett: Melody in Swing
Arbors Records
ARCD: 19191
Regular price $10.00 Sale
Ray Sherman: Piano
Eddie Erickson: Guitar; Banjo
Dave Stone: Bass
Jeff Hamilton: Drums
Ed Slauson: Claves

"Melody in Swing finds trombonist and arranger Dan Barrett returning to the classic small band jazz setting we heard on his previous critically acclaimed Jubilesta! This time Barrett is leading a quintet—a perfect theater for his imaginative arrangements, his warm tone and lyrical sound—It's all here—a testimonial to how jazz's musical past has woven its way into the musical present of this gifted trombonist."
—John Breckow, Former host of Smoke Rings on radio station KPFK-FM Los Angeles, California
Selections:
Melody in Swing
I'm Nobody's Baby
Carelessly
What is This Thing Called Love?
My Mother's Eyes
Teezol
There is No Greater Love
Take My Heart
Finesse
Besame Mucho
You've Got Me Crying Again
Mighty Like the Blues
Gravy Waltz