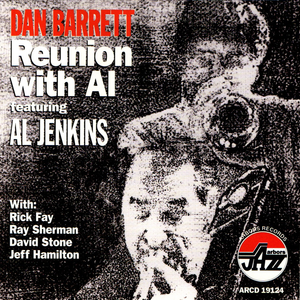 Dan Barrett: Reunion with Al Featuring Al Jenkins
Arbors Records
ARCD: 19124
Regular price $10.00 Sale
Musicians:
Al Jenkins: Trombone, Vocal
Dan Barrett: Cornet
Rick Fay: Clarinet, Soprano and Tenor Saxes
Ray Sherman: Piano
David Stone: Bass
Jeff Hamilton: Drums

This recording introduces trombonist Al Jenkins, a long overlooked hero of the jazz scene and a strong influence on the developing talents of the teen-aged Dan Barrett, to a new generation of listeners. As Dan has written about his first meeting with Al, "His ensemble playing was different than any I had heard up to that time. He literally had his own way of swinging. He found just the right notes to impart the fullest harmony, and delivered them with that utterly relaxed, irresistible swing. I felt I was in the presence greatness." And, as listeners to this recording will find, the stunning vibrancy of his trombone still possesses the power to accelerate the pulse.
—Producer's Note

Selections:
Do You Ever Think of Me?
Sugar Blues
Love Me or Leave Me
(When It's) Darkness on the Delta
Oh, Baby
After You've Gone
I Can't Give You Anything But Love
Bright Eyes
I Never Knew
You're a Heavenly Thing
Bei Mir Bist Du Schoen
At Sundown
September Song
Girl of My Dreams
Rachel's Boogie
Isle of Capri