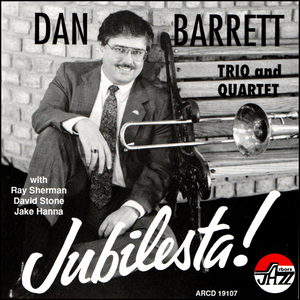 Dan Barrett Trio and Quartet: Jubilesta!
Arbors Records
ARCD: 19107
Regular price $10.00 Sale
Dan Barrett: Trombone
Ray Sherman: Piano
David Stone: Bass
Jake Hanna: Drums

"On this latest disc, only Dans second as sole leader, his playing is to the fore. I cant think of very many recent offerings with trombone as the only horn, or of many trombonists who could meet such a challenge, but Dan Barrett comes through with flying colors. What is striking here is not just his secure technique, consistently superb intonation, and mastery of mutes (the plunger in particular), but the maturity of his conception and the beauty of his sound. And all this is at all times at the service of the music; the message is always there."
—Dan Morgenstern, jazz editor and producer and the Director of the Institute of Jazz Studies, Rutgers University.

Critics Choice new jazz recording of 1993 in Jazz Journal International; selected by Stanley Dance and Jack Sohmer as a Top Ten record of 1993 in JazzTimes; selected by John Norris and Dick Neeld as a Writers Choice record for 1993 in Coda
Selections:
I Love You
Why Cant You Behave?
Jubilesta
Then I'll Be Happy
Sweet Substitute
Blue Chu
Alabamy Bound
Mood Indigo
I Surrender Dear
Wait 'Til You See "Ma Cherie?
Wherever Theres Love (Theres You and I)
I'll Always Be In Love With You
When The Sun Sets Down South
Little Jazz