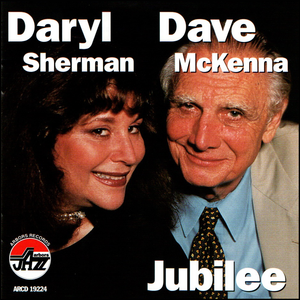 Daryl Sherman and Dave McKenna: Jubilee
Arbors Records
ARCD: 19224
Regular price $10.00 Sale
Daryl Sherman: Vocals, Piano
Dave McKenna: Piano
Joe Cohn: Guitar
Frank Tate: Bass
Terry Clarke: Drums

"Jubilee" is a package bursting with good ideas. The simple act of getting Daryl Sherman and Dave McKenna together in the studio is, for my dough, concept enough to sustain an album. McKenna is a category unto himself and Daryl is a perfect bridge between the not so dissimilar worlds of cabaret and jazz, a brilliant interpreter who treats the melody as something to have fun with. 
—Will Friedwald, the author of Jazz Singing and Sinatra! The Song Is You, and co-author with Tony Bennett of The Good Life.

Selections:
Tulip or Turnip
Isn't This a Lovely Day?
Flying Down to Rio
Memphis in June
Perdido
A Room With a View
Zigeuner
It's Kind of Lonesome Out Tonight
Fred and Ginger Medley: Night and Day; The Way You Look Tonight; I Won't Dance; Shall We Dance
Moonburn
Riverboat Shuffle
Chase Me Charlie
C'est Comme Ca
Swingtime in Honolulu
I'll Follow My Secret Heart/Someday I'll Find You
Jubilee
20th Century Blues