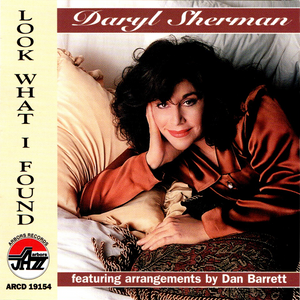 Daryl Sherman: Look What I Found
Arbors Records
ARCD: 19154
Regular price $10.00 Sale
Daryl Sherman: Vocals, arrangements and piano
Dan Barrett: Trombone and arrangements
Randy Sandke: Trumpet
Jerry Dodgion: Alto sax, clarinet, flute
Ken Peplowski: Clarinet, tenor sax
Scott Robinson: Baritone and soprano sax, bass clarinet
Chuck Wilson: Alto sax, clarinet, flute
Bucky Pizzarelli: Acoustic and electric guitar
John Bunch: Piano
Boots Maleson: Bass
Klaus Suonsaari: Drums and percussion

Cole Porter's lyric "flow sweet music" sums up the spirit of this album by the sophisticated yet swinging song stylist Daryl Sherman, making her Arbors Records debut with a choice potpourri of non-hits from hit films and shows, quality pop and jazz tunes in need of rediscovery, Sherman originals and two or three evergreens. In the company of ten of New York«s most accomplished players, under the direction of trombonist Dan Barrett and featuring a bevy of his witty and inventive arrangements, Daryl again demonstrates, in the words of The New Yorker, that she "has yet to meet a standard whose charms she couldn't extract."
—Paraphrased from the album notes by James Gavin, whose profiles of pop and jazz personalities appear in the New York Times and the Village Voice.

Selected by Tex Wyndham as a 1996 Writer's Choice in the Jan/Feb 1997 issue of Coda
Selections:

Cheek to Cheek
Lazy in Love
Music Makes Me
Any Old Time
Simple As That
There's a Lull in My Life
Knock Me a Kiss
Many a New Day
Look What I Found
This Will Make You Laugh
Something Brazilian
I Was Wrong
Why Do I Love You?
This Is New
I Never Knew (That Roses Grew)
Things Are Looking Up