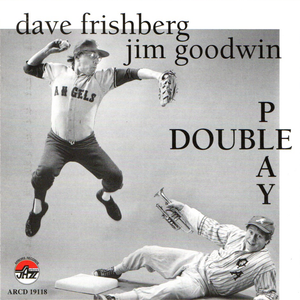 Dave Frishberg and Jim Goodwin: Double Play
Arbors Records
ARCD: 19118
Regular price $10.00 Sale
Dave Frishberg: Piano
Jim Goodwin: Cornet
The incomparable pianist and entertainer Dave Frishberg and the exceptional cornetist Jim Goodwin are partners in a program of unique and unusual jazz performances. "Here is high-risk but wonderfully spontaneous jazz, bristling with untested and daring ideas, last-second saves and a few out-and-out fluffs. And here are unique dialogues involving two remarkably talented instrumentalists, each listening with obvious pleasure to the other from the first note to the last."
—Richard Hadlock, critic, radio host and author of Jazz Masters of the Twenties.

Selected by John Sutherland as a Writers Choice record for 1994 in the January-February 1995 issue of Coda Magazine, and as CD of the year by Joe H. Klee in the January 1994 issue of The Mississippi Rag.
Selections:
Russian Lullaby
Easy Come, Easy Go
There Ain't No Sweet Man That's Worth The Salt Of My Tears
One, Two, Button Your Shoe
Stardust
Willie The Weeper
Shoeshine Boy
Blue River
In A Sentimental Mood
Rosalie
My Kinda Love
Shout 'Em
Aunt Tillie
There's A Cabin In The Pines
Clementine (From New Orleans)
Winin' Boy
Say It Isn't So
Dear Old Southland