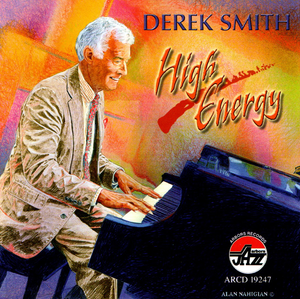 Derek Smith: High Energy
Arbors Records
ARCD: 19247
THIS CD IS OUT OF PRINT AND
AVAILABLE BY DIGITAL DOWNLOAD ONLY
For digital download of this CD, visit your preferred digital download website such as iTunes, Amazon Music, Google Play and More!
---
Derek Smith, piano
Nicki Parrott, bass
Joe Ascione, drums
"Throughout, one is impressed by the nimbleness of Derek's fingers - and his mind. With the virtuosity of Art Tatum, the sophistication of Teddy Wilson, and audacious boppishness of Bud Powell, Derek is a man for all seasons, an artist and entertainer whose musical genius transcends categories. He also possesses the now seemingly rare ability to make his musical points within the compass of three or four minutes. With Derek, less is more! High Energy is a gas!
—Dr. Chuck Berg, University of Kansas, is a contributor and reviewer for JazzTimes, Down Beat and Jazz Educators Journal; a contributor to The Oxford Companion to Jazz and The Gramophone Guide to CD Jazz, and a Voting Member, National Academy of Recording Arts and Science
Selections:
Like Someone in Love, How Deep Is the Ocean?
Fools Rush In
Girl Talk
Doxy
Lazy Afternoon
On Green Dolphin Street
Alone Together
Spring Can Really Hang You Up the Most
Here's That Rainy Day
Let's Fall in Love
Teach Me Tonight
Theme from the Second Movement "Concerto de Aranjuez"
St. Thomas