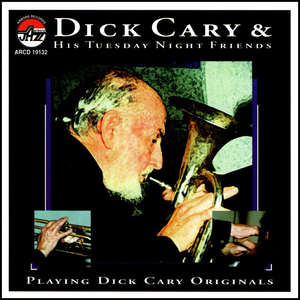 Dick Cary and His Tuesday Night Friends: Playing Dick Cary Originals
Arbors Records
ARCD: 19132
Regular price $10.00 Sale
THIS CD IS OUT OF PRINT AND
AVAILABLE BY DIGITAL DOWNLOAD ONLY
For digital download of this CD, visit your preferred digital download website such as iTunes, Amazon Music, Google Play and More!
---
Dick Cary: Electric Piano, Trumpet, Composer, Arranger
The Tuesday Night Friends:
Trumpets: Dick Forrest, Betty O«Hara, Bob Summers
Trombones: Dick Hamilton, Barrett O'Hara, Ernie Tack
Reeds: Lee Callett, Fred Cooper, Terry Harrington, Abe Most, Tommy Newsom
Bass: Herb Mickman
Guitar: Dave Koonse
Drums: Gene Estes, Jerry McKenzie

"The release of this wonderful material finally makes available a portion of a great body of Dick Cary's music that has never before been accessible to the public. These are the orchestral sounds previously heard only by his "Tuesday Night Friends," a dedicated rehearsal band assembled from the vast community of talented musicians in Southern California. The weekly performances of the rehearsal band continue to this day and will go on so long as these wonderful musicians are able to play. They estimate it will take ten years to play through the stockpile of great material that Dick Cary left behind on his death in 1994."
—Floyd Levin, award winning jazz writer whose oral history interview of Dick Cary is in the Jazz Archive at Tulane University in New Orleans.
Selections:
Ding
Henry
Kreik
Bud
Fugue
Black Shadow
Fritz
Another
January
Vallen's Waltz
8th Avenue Rag
Thursday Blues
Pong
Tuxford
M & M