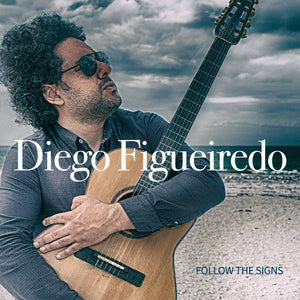 Diego Figueiredo | Follow The Signs
Arbors Records
ARCD: 19486
Regular price $10.00 Sale
FOUR STARS! DownBeat 2022
2019 GRAMMY nominated guitarist Diego Figueiredo is a virtuoso with an infectious, joyful feeling that will leave you amazed and happy.
The new release features 11 Diego Figueiredo originals plus an inspired version of Erroll Garner's Classic "Misty"
A great follow up to his previous Arbors releases "Antarctica", "Compilation" and his 2019 collaboration with Ken Peplowski "Amizade."
Diego Figueiredo is an extraordinary star among the world's greatest jazz guitarists. His superb technique, timing and imagination have made him one of the hottest international names right now. He has a very unique skills and his concert have been a great success in more than 60 countries around the world.
He has already released 28 CDS, 3 DVDs and a book and he has received awards twice at the "MONTREUX JAZZ FESTIVAL" as one of the greatest guitarists in the world. Diego Figueiredo performs one amazing concert uniting technique and emotion in a fusion of Brazilian music and jazz.​
Diego Figueiredo is a brilliant musician who keeps the tradition of the true essence of Brazilian music and at the same time can be extremely virtuous , modern and innovative.
''Diego Figueiredo is one of the greatest guitarists I've seen in my whole life. The world needs to listen to his music.''
George Benson
''I have seem and played with many wonderful guitar players like Joe Pass or Baden Powell, but no one is like Diego. His ability and swing are unique.''
Flora Purim
Track Listing
Follow The Signs
Infinite
Dear John
Delicate Samba
Jobim Forever
Misty

Our Friends
Samba in New Orleans
My Home
Five Times
Sobre As Aguas
Imagination