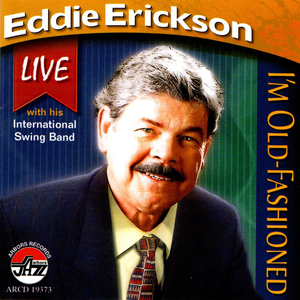 Eddie Erickson: I'm Old Fashioned
Arbors Records
ARCD: 19373
Regular price $10.00 Sale
Eddie Erickson-banjo, guitar, vocals
Menno Daams-trumpet
Bill Allred-trombone
Antti Sarpila-clarinet, tenor sax
Rossano Sportiello-piano
Henning Gailing-bass
Moritz Gastreich-drums

Eddie Erickson Live with His International Swing Band
"This band opens its arms to a wide variety of swinging jazz, lyrical and hot, aware of traditions but always inventive. It recalls the great sessions of the Thirties and Forties with eloquent, compact solos and hip arranging: split choruses, eight-bar phrases tossed back and forth, enthusiastic riffs and backgrounds....When touring in Germany, it brought the audience to its feet every night."
—From ths album notes by Michael Steinman, who writes vividly about jazz for numerous publications.

Selections:
Pick Yourself Up, That's My Home, S'posin, Medley: It's The Talk of The Town and Chinatown, My Chinatown, Did I Remember?, Sweet and Slow, Little White Lies, You're a Sweetheart, My Honey's Lovin' Arms, I'm Old Fashioned, That's A Plenty, Just a Kid Named Joe, A Shine on Your Shoes, Dream a Little Dream of Me, The World is Waiting for the Sunrise