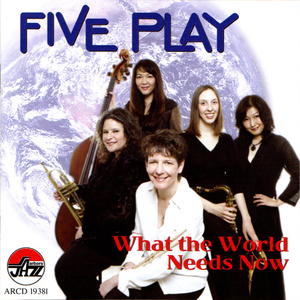 Five Play: What the World Needs Now
Arbors Records
ARCD: 19381
Regular price $10.00 Sale
THIS CD IS OUT OF PRINT AND
AVAILABLE BY DIGITAL DOWNLOAD ONLY
For digital download of this CD, visit your preferred digital download website such as iTunes, Amazon Music, Google Play and More!
---
Sherrie Maricle-Leader, Drums
Jami Dauber-Trumpet, Flugelhorn, Cornet
Janelle Reichman-Tenor Saxophone, Clarinet
Tomoko Ohno-Piano
Noriko Ueda-Bass
Five Play was created from the world renowned Diva Jazz Orchestra as a vehicle to feature some of its foremost players. It is a virtual United Nations of Jazz fusing world cultures with extraordinary musicianship and a shared creative vision. This synthesis of talent, passion and global sensibility has produced a fresh, exciting quintet infused with imagination, rooted in jazz tradition and unified by a collective inspiration. It is driven by the same compassion for the music as its male counterparts.

"This CD features a most appealing combination of popular song standards and jazz originals all endowed with innovative and imaginative arrangements. A new album by this highly accomplished and superbly integrated quintet is decidedly what the world needs now. And this is it."
—From the album notes by Mike Hennessey, London-born but now making his home in Germany, a jazz writer, critic, producer, broadcaster and pianist who has covered the international music scene for Billboard magazine for 27 years and has written more than 500 album notes and hundreds of articles, reviews and biographical features for a wide range of jazz magazines, including Coda, Down Beat, Jazz Times and Jazz Journal International.

Selections:
What the World Needs Now Is Love, I Want To Be Happy, Moon Song, Groove Merchant, Slipped Disc, I Could Have Danced All Night, Jo-House Blues, Old Folks, I Am Woman