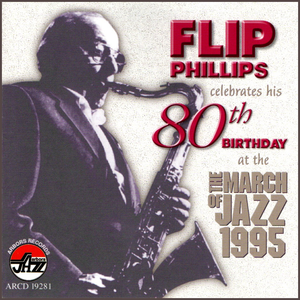 Flip Phillips Celebrates His 80th Birthday
Arbors Records
ARCD: 19281
Regular price $10.00 Sale
THIS CD IS OUT OF PRINT AND
AVAILABLE BY DIGITAL DOWNLOAD ONLY
For digital download of this CD, visit your preferred digital download website such as iTunes, Amazon Music, Google Play and More!
---

Flip Phillips: saxophone,
Scott Hamilton: saxophone
Phil Woods: alto saxophone
Buddy DeFranco: clarinet
Carl Fontana: trombone
Sean Smith: bass
Derek Smith: piano
Butch Miles :drums
Howard Alden: guitar
Dick Hyman: piano,
Milt Hinton: bass,
Bob Wilber: saxophone
Ralph Sutton: piano
Billy Bauer: guitar
Bob Haggart: bass
Jake Hanna: drums
"There was plenty of hot music served up in the course of Flip's 80th Birthday Party... For those of us lucky enough to have been there, this is a wonderful keepsake, and for those who were not, this might make you feel as though you had. And for all of us, it will remind us that Flip Phillips was a man who loved to play, and made us share that love. Joe - now you«re really swinging a melody from the sky!"
—Dan Morgenstern, Director of the Institute of Jazz Studies at Rutgers University
Selections:
Tenor Madness, Spanish Eyes, Poor Butterfly, When You Know You're Getting Old, The Claw, If I Had A Penny, Maria Elena, Hashimoto's Blues, Sweet And Lovely, Perdido