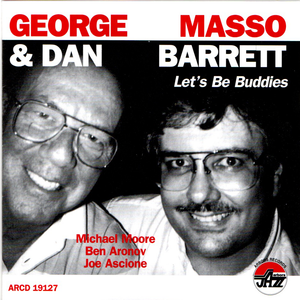 George Masso and Dan Barrett: Let's Be Buddies
Arbors Records
ARCD: 19127
Regular price $10.00 Sale
THIS CD IS OUT OF PRINT AND
AVAILABLE BY DIGITAL DOWNLOAD ONLY
For digital download of this CD, visit your preferred digital download website such as iTunes, Amazon Music, Google Play and More!
---
Musicians:
George Masso: Trombone and piano
Dan Barrett: Trombone, cornet and vocal
Frank Vignola: Guitar
Ben Aronov: Piano
Michael Moore: Bass
Joe Ascione: Drums
"A sextet of kindred spirits dedicated to keeping the jazz tradition alive. The enthusiasm and conviction with which these instrumentalists approached the recording date created thirteen not only memorable but integrated performances. This is what real jazz music is all about."

—Brian Peerless (author of articles on Lou McGarity and Cutty Cutshall for New Grove Dictionary of Jazz and promoter of numerous jazz programs in Great Britain)

Chosen by George Kanzler as one of his best-of-1994 in the Newark Star-Ledger. Selected by Tex Wyndham as a Writer's Choice record for 1995 in the January/February 1996 issue of Coda
Selections:
Get Out and Get Under the Moon
Am I Blue?
My Melancholy Baby
Indian Summer
George's and Dan's Most Excellent Blues
Whispering Grass (Don't Tell the Trees)
Miss Annabelle Lee
Creole Love Call
When Lights Are Low
Constantly
How About Me?
Linger in my Arms a Little Longer, Baby
Let's Be Buddies