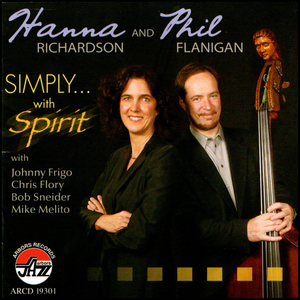 Hanna Richardson & Phil Flanigan: Simply... with Spirit!
Arbors Records
ARCD: 19301
Regular price $10.00 Sale
Hanna Richardson, vocals
Phil Flanigan, bass
Chris Flory, guitar
Bob Sneider, guitar
Johnny Frigo, violin
Mike Melito, drums
Ruby Braff complimented her singing: "That's the way to sing —simply and with spirit." Hanna is a musician who loves melodies, a wit who savors words, so that she honors the song rather than making it her personal trampoline...Her approach is reminiscent of the great forbears Louis and Bing, of course, but also Hodges and Hackett—artists who could read the notes off the page and make the written melody sound new by shifting an emphasis, hesitating a fraction of a second, making it all moving and fresh.
—From the album notes by Michael Steinman, Professor of English at Nassau Community College in New York and author and editor of six books, whose jazz reviews appear in The Mississippi Rag and Cadence

Selections:
I Got the Sun in The Morning, Don't Let It Bother You, I Told Ya I Love Ya, Now Get Out, (Love Is) The Tender Trap, Detour Ahead, Love You Madly, Oh! Look at Me Now Are You Havin' Any Fun?, Stardust, A Brown Bird Singing, Slap That Bass, It's a Lovely Day Today, A Hundred Years From Today, They All Laughed, I'm Walkin', We Three