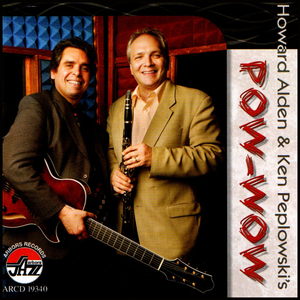 Howard Alden & Ken Peplowski's Pow-Wow
Arbors Records
ARCD: 19340
Regular price $10.00 Sale
THIS CD IS OUT OF PRINT AND
AVAILABLE BY DIGITAL DOWNLOAD ONLY
For digital download of this CD, visit your preferred digital download website such as iTunes, Amazon Music, Google Play and More!
---
Howard Alden-guitar
Ken Peplowski-tenor saxophone and clarinet
How can two guys make so much music? As you listen to the variety and range and richness of the music produced here by Howard Alden and Ken Peplowski, you are likely to ask yourself the same question. The answer is easy if you have the technical wherewithal, quick wits, musical intelligence and almost telepathic rapport these guys bring to bear when it«s just the two of them playing together. They have such a long history that they have a common language and vocabulary that come together very quickly to create a CD filled with dazzling interplay.
—From the album notes by Ross Firestone, author of the award-winning Swing, Swing, Swing: The Life and Times of Benny Goodman

Selections:
Pow Wow, Dream Dancing, Did I Remember?, Very Early, Who Knows, After All, Bossagno, I See Your Face Before Me, Tempus Fugit, The Land of The Loon, The Things We Did Last Summer, Panama, Lucky To Be Me