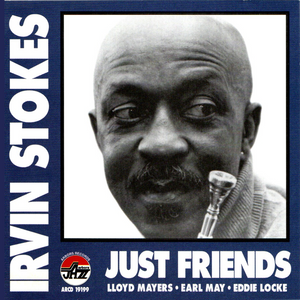 Irvin Stokes: Just Friends
Arbors Records
ARCD: 19199
Regular price $10.00 Sale
Irvin Stokes: Trumpet
Lloyd Mayers: Piano
Earl May: Bass
Eddie Locke: Drums

This recording gives long overdue recognition to Irvin Stokes, the superb jazz trumpeter, who is at his best now. In his seventies, he only gets better with age. His solos make sense, convey passion and are well placed over good harmonic knowledge. His playing has been hailed by his colleague, the late Doc Cheatham, and if Doc was the Eubie Blake of the late 20th century, then perhaps Irvin Stokes is to be the Doc Cheatham of the 21st.
—From the album notes by Phil Schaap, multi-Grammy winning jazz historian and the host of a popular radio show onWKCR in New York City.
Do You Know What It Means to Miss New Orleans?
Sweet Lorraine
I Cover the Waterfront
Blues for Dew
All of Me
Blue Basso
When the Saints Go Marching In
Laura
Perdido
Just Friends