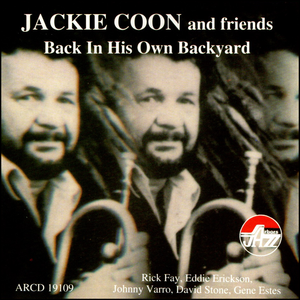 Jackie Coon and Friends: Back in his Own Backyard
Arbors Records
ARCD: 19109
Regular price $10.00 Sale
THIS CD IS OUT OF PRINT AND
AVAILABLE BY DIGITAL DOWNLOAD ONLY
For digital download of this CD, visit your preferred digital download website such as iTunes, Amazon Music, Google Play and More!
---
Musicians:
Jackie Coon: Flugelhorn, Vocal
Rick Fay: CL, TS, SS
Eddie Erickson: Banjo, Guitar, Vocal
Johnny Varro: Piano
David Stone: Bass
Gene Estes: Drums
Always lyrical, inventive and swinging, flugelhorn master Jackie Coon presents those "...rare moments when stellar jazzmen merge their talents in an informal jam session. Listening to this recording is tantamount to enjoying great music being played just for you. This is almost like Jackie Coon and his friends are performing, in a private jam session, back in his own backyard!? — Floyd Levin, jazz writer for numerous publications.

Selected by Floyd Levin as one of the Top Ten records of 1993 in the February 1994 issue of Coda Magazine.
Selections:
Black and Blue
Back In Your Own Backyard
There Will Never Be Another You
Lulus Back In Town
Down By The Riverside
Louisiana Sugar
Bryans Blues
Maryland, My Maryland
If I Had You
Stumbling