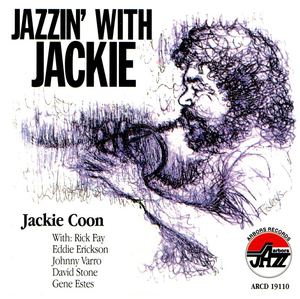 Jackie Coon: Jazzin' with Jackie
Arbors Records
ARCD: 19110
Regular price $10.00 Sale
THIS CD IS OUT OF PRINT AND
AVAILABLE BY DIGITAL DOWNLOAD ONLY
For digital download of this CD, visit your preferred digital download website such as iTunes, Amazon Music, Google Play and More!
---
Musicians:
Jackie Coon: Fluegelhorn
Rick Fay: Clarinet, Tenor and Soprano Saxes
Eddie Erickson: Banjo, Guitar
Johnny Varro: Piano
David Stone: Bass
Gene Estes: Drums

"Jackie Coon, at his best, playing relaxed but swinging music with some old friends. Whether it be called New Orleans jazz, dixieland, small group swing or straightahead, Jackie Coons variety of melodic jazz is very easy to enjoy and extremely difficult to resist. Although he emphasizes the middle register of his horn and has a soft and mellow tone, Jackies subtle solos are full of inner fire, effortless swing and surprising twists."
—Scott Yanow, regular contributor to numerous jazz publications for more than 15 years.
Selections:
Oh, Lady, Be Good!
Me and My Shadow
Cross Your Heart
Jazzin Around
Song of the Wanderer
When My Dreamboat Comes Home
Bourbon Street Parade
When I Grow Too Old to Dream
The White Cliffs of Dover
Pick Yourself Up
Careless Love