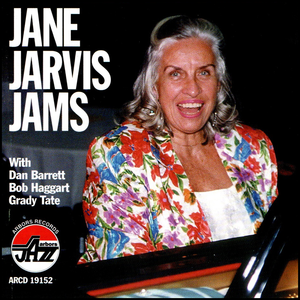 Jane Jarvis Jams
Arbors Records
ARCD: 19152
Regular price $10.00 Sale
Jane Jarvis: Piano
Bob Haggart: Bass
Grady Tate: Drums
Dan Barrett: Trombone, Cornet

"This recording brings to the fore the piano talents of a remarkably accomplished artist, joined by three master musicians who can invent, seemingly, at will, and think as one while retaining their own musical personalities and identities. The result brings to mind John Hammond«s famous definition of jazz: ÷Collective improvisation, rhythmically integrated."

Selected by Ian Crosbie as a 1998 Critics' Choice in the February 1997 issue of Jazz Journal International.
Selections:
Organizin'
I've Got You Under My Skin
When Your Lover Has Gone
I Get Along Without You Very Well
That Old Feeling
Mountain Greenery
You Go to My Head
For Jess
Cherry
S'posin'
Cherokee
The Very Thought of You
Begin the Beguine
What's New?
Oh, Lady, Be Good!