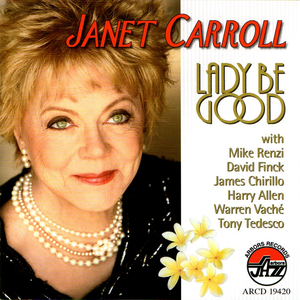 Janet Carroll: Lady Be Good
Arbors Records
ARCD: 19420
Regular price $10.00 Sale
Musicians:
Janet Carroll Vocals
Mike Renzi Piano
David Finck Bass (Except 15) James Chirillo Guitar (Except 5, 8, 15)
Warren Vache Cornet (tracks 2, 4, 6, 9, 10, 11, 12)
Harry Allen Tenor Sax (1, 3, 4, 7, 8, 9, 13, 14)
Tony Tedesco Drums (1, 3, 4, 5, 7, 8, 9, 13, 14)
Making a jazz album for Arbors Records is a comfortable step for the Janet Carroll, the singer-actress who boasts a resume of movie and TV credits that's literally a mile long, extensive training and experience in the field of classical music, and among other theatrical appearances, a major role in the hit Broadway musical Little Women. "Yet all of the above is extraneous information: all you really need to know is in the grooves, so to speak. When Janet Carroll sings these impeccable jazz and pop standards with these marvelous musicians, she sounds completely natural, as if she belongs here, doing what she does best."
From the album notes by Will Friedwald, the author of Jazz Singing and of Sinatra! The Song Is You, and co-author with Tony Bennett of The Good Life, who now writes about jazz for several publications including The Wall Street Journal

Selections:

The Lady is A Tramp / Oh, Lady Be Good
Black Coffee
Willow Weep For Me
I Love Paris
Skylark
I Thought About You
What Is This Thing Called Love
I Just Don't Know
Mountain Greenery
Georgia On My Mind
Takin' A Chance On Love
I Hadn't Anyone Till You / Till There Was You
Besame Mucho
Fore Day Creep
You'll Never Know