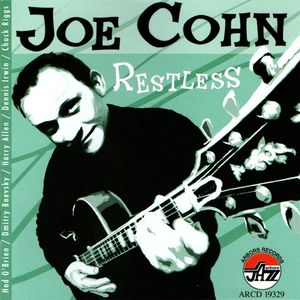 Joe Cohn: Restless
Arbors Records
ARCD: 19329
Regular price $10.00 Sale
THIS CD IS OUT OF PRINT AND
AVAILABLE BY DIGITAL DOWNLOAD ONLY
For digital download of this CD, visit your preferred digital download website such as iTunes, Amazon Music, Google Play and More!
---
Joe Cohn: guitar
Harry Allen: tenor sax (1, 4, 6, 7, 10)
Dmitry Baevsky: alto sax
Hod O'Brien: piano
Dennis Irwin: bass
Chuck Riggs: drums
"The well-chosen repertoire here is divided among some five classic standards from the fertile 1930s; two Al Cohn originals; two more from band members; one by '40s band leader/pianist Buddy Johnson; and one from the masterful Thad Jones. I can't emphasize enough how unaffectedly excellent these musicians are, individually and collectively. Their love of playing is evident and they make music they choose to play, from whatever era, their own. As for Joe Cohn, I don't think he realizes just how good he is. And getting better all the time."
—Ira Gitler, who has been writing, professionally, about jazz since 1951 in magazines, newspapers, liner and booklet notes and books. He writes a monthly column for Jazz Improv's New York Jazz Guide and contributes to JI's quarterly and to DownBeat. He is also a member of the Jazz Faculty at the Manhattan School of Music. The Biographical Encyclopedia of Jazz (Oxford) by Leonard Feather and Gitler, has just been reissued in paperback with updated material on birth and death dates and places; and nomenclature.

Selections:
Never Look Back, Too Marvelous for Words, Little Juicy, Restless, Fast, Woody«s Lament, Diffusion of Beauty, I Wonder Where Our Love Has Gone, Shadow Waltz, Comes Love, I Hadn't Anyone Till You