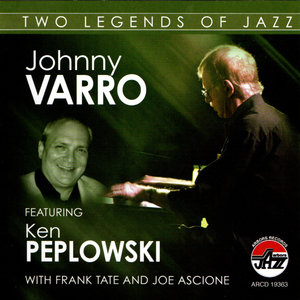 Johnny Varro Featuring Ken Peplowski: Two Legends of Jazz
Arbors Records
ARCD: 19363
Regular price $10.00 Sale
THIS CD IS OUT OF PRINT AND
AVAILABLE BY DIGITAL DOWNLOAD ONLY
For digital download of this CD, visit your preferred digital download website such as iTunes, Amazon Music, Google Play and More!
---
Johnny Varro-piano
Ken Peplowski-clarinet
Frank Tate-bass
Joe Ascione-drums
"Johnny Varro has been such a consistent pianist ever since his career began in earnest when he joined Bobby Hackett's band in 1953 that it is easy to take him for granted. As with one of his influences, Teddy Wilson, Varro gives one the impression that he never played a wrong note, a tasteless phrase or a hesitant chorus. Johnny Varro is very happy with the music that resulted from this project and listeners will have no problem enjoying each of the 15 performances, whether it is solo, duet, trio or quartet. Johnny Varro, as usual, excels in every format."
—Scott Yanow, has penned over 500 liner notes and is the author of nine jazz books including Trumpet Kings, Swing, Classic Jazz, Jazz On Film and Jazz On Record 1917-76

Selections:
My Baby Just Cares For Me, The Touch of Your Lips, Menina Flor, After I Say I'm Sorry (What Can I Say?), It's Easy to Remember, A Smooth One, Bluesette, You're a Sweetheart, Secret Love, Out of Nowhere, Love Locked Out, I Love You, Someday You'll Be Sorry, Blues on 57th Street, The Way You Look Tonight