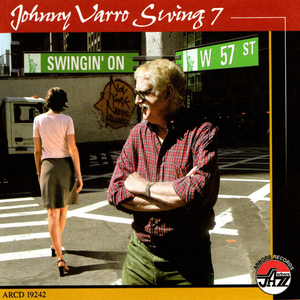 Johnny Varro Swing 7: Swingin' On West 57th St.
Arbors Records
ARCD: 19242
Regular price $10.00 Sale
Johnny Varro: Piano, Leader, Arrangements
Randy Sandke: Trumpet
Dan Barrett: Trombone
Ken Peplowski: Clarinet, Alto Saxophone
Scott Robinson: Tenor Saxophone
Michael Moore: Bass
Joe Ascione: Drums
"The Johnny Varro Swing Seven has set standards of imaginative repertoire and musical prowess which are high, indeed. The listener new to this band will treasure the eclectic tune list (including composers from Frederic Chopin to Johnny Hodges) as well as the freshness and verve of the players. Those who are already fans of this septet will be thrilled anew as the musical surprises unfold, and will join this writer in replaying this album and savoring each moment."
—Duncan Schiedt, a veteran jazz photographer, archivist and author since 1939.

Selections:
As Long As I Live, Caught, On The Sunnyside of The Street, Old Fashioned Love, Mission To Moscow, Black Butterfly, You Need To Rock, Bounce of The Sugar Plum Fairies, It's Been So Long, Avalon, Constantly, Complainin', Doin' The New Low-Down, Polonaise, Hag's Blues, I'm Shooting High