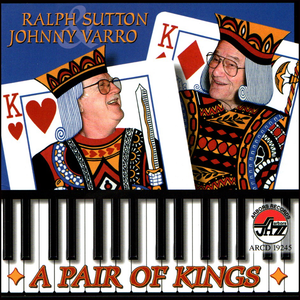 Ralph Sutton and Johnny Varro: A Pair of Kings
Arbors Records
ARCD: 19245
Regular price $10.00 Sale
THIS CD IS OUT OF PRINT AND
AVAILABLE BY DIGITAL DOWNLOAD ONLY
For digital download of this CD, visit your preferred digital download website such as iTunes, Amazon Music, Google Play and More!
---
Ralph Sutton: Piano
Johnny Varro: Piano
Phil Flanigan: Bass
Ed Metz Jr.: Drums

"One night while talking with my good friend Johnny Varro I asked him how he would like to play with Ralph. Johnny didn't hesitate with his reply: "Sure! We have played together before". Then it was a quick call to Ralph and his reply was typical: "Yeah man!" And so it came about that one of my life's dreams came true." 
Selections:

Swing That Music
All By Myself
What Am I Here For?
St. Louis Blues
Crazy Rhythm
Tea For Two
I Can«t Give You Anything But Love
It's You or No One
Oh, Lady, Be Good!
Farewell Blues
(Back Home Again In) Indiana
Say Yes!
Jitterbug Waltz
Ain't Misbehavin'
Keeping Out of Mischief Now
Stealin' Apples