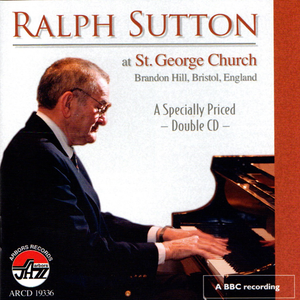 Ralph Sutton at St. George Church, England, 1992
Arbors Records
ARCD: 19336
Regular price $10.00 Sale
THIS CD IS OUT OF PRINT AND
AVAILABLE BY DIGITAL DOWNLOAD ONLY
For digital download of this CD, visit your preferred digital download website such as iTunes, Amazon Music, Google Play and More!
---
Ralph Sutton - solo piano
SPECIALLY PRICED DOUBLE CD *** SELLS FOR THE PRICE OF A SINGLE CD $10

This BBC broadcast was an informal but delightful soiree with Ralph in the most convivial surroundings. It was so successful that the broadcast was repeated soon after its first transmission, in response to requests from listeners. This CD release is another opportunity for those of us who were there to savor the evening again, and for those who weren't, to eavesdrop on Ralph in his prime.
—From the CD notes by Alyn Shipton, the jazz critic for The Times in London, and a frequent broadcaster on BBC Radio 3

Selections:
Tea For Two, Ain't Misbehavin', Love Lies, Honeysuckle Rose, Medley: Old Folks, Cottage For Sale, 'Taint So, Honey, 'Taint So, Viper's Drag, Medley: Sophisticated Lady, Ring Dem Bells, Morning Air, Echo of Spring, Dinah, When I Grow Too Old to Dream, Medley: The Jitterbug Waltz, Say Yes, You're Slightly Less Than Wonderful, The Ladies Who Sing With the Band, Medley: Cabin In the Sky, Taking a Chance on Love, Old Fashioned Love, Eye Opener, St. Louis Blues