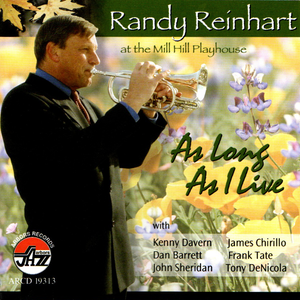 Randy Reinhart at the Mill Hill Playhouse: As Long As I Live
Arbors Records
ARCD: 19313
Regular price $10.00 Sale
THIS CD IS OUT OF PRINT AND
AVAILABLE BY DIGITAL DOWNLOAD ONLY
For digital download of this CD, visit your preferred digital download website such as iTunes, Amazon Music, Google Play and More!
---
Randy Reinhart, cornet and trombone
Kenny Davern, clarinet
Dan Barrett, trombone and cornet on Track 5
John Sheridan, piano
James Chirillo, guitar
Frank Tate, bass
Tony DeNicola, drums
"Jazz is a big tent. There's room for everything from "repertory"-oriented ensembles who studiously recreate earlier performances, to major muscians who create new music in the various idioms of jazz. Randy Reinhart and his co-star, the amazing clarinetist Kenny Davern, here create great new music in a program evenly balanced between material associated with the early jazz masters and pop tunes of the jazz age that quickly became all-time jazz standards. Randy and his all-stars are not afraid of their roots, but they're also not afraid to go wherever their love of the music takes them."
—From the album notes by Will Friedwald, the author of Jazz Singing and of Sinatra! The Song Is You, and co-author with Tony Bennett of The Good Life, who now writes about jazz for the New York Sun
Selections:
At The Jazz Band Ball, As Long As I Live, Too Late Now, Nobody's Sweetheart, I Guess I'll Have To Change My Plan, Weatherbird Rag, Mood Indigo, The Blues My Naughty Sweetie Give To Me, The Yellow Dog Blues, More Than You Know, Clarinet Marmalade