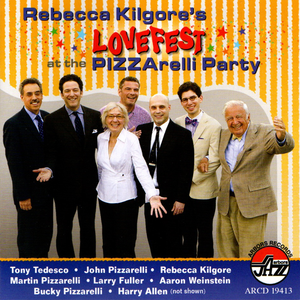 Rebecca Kilgore's Lovefest at the PIZZArelli Party
Arbors Records
ARCD: 19413
Rebecca Kilgore: vocals
John Pizzarelli: guitar
Bucky Pizzarelli: guitar
Martin Pizzarelli: bass
Aaron Weinstein: violin
Harry Allen: tenor saxophone
Larry Fuller: piano
Tony Tedesco: drums

You might say this album is a labor of love—it's certainly a labor about love. The two principal players here, John Pizzarelli and Rebecca Kilgore, are clearly well-versed and vastly experienced with regards to this thing that we call love: they quickly reveal that they are intimately familiar with it«s whys and wherefores, hows and whens, its highs, its lows, its ups, and its downs....It's even more obvious that Mr. P and Ms. K have the musical wherewithal to get their message across. Mr. Pizzarelli's skills are known the world over—it's hardly a secret that there is no better guitarist, singer, singing guitarist, or guitar-playing vocalist anywhere...After 30 albums, Rebecca Kilgore also hardly requires anything like an introduction, but I have to say that every time I hear her, Miss Kilgore's voice becomes increasingly sonorous and bell-like. It«s ethereal and earthy at the same time, both saintly and swinging...in the end, there's nothing like love.
—From The album notes by Will Friedwald who writes for The Wall Street Journal and the is the author of eight books on music and popular culture, including A Biographical Guide to the Great Jazz and Pop Singers (Pantheon Books, 2010)
Selections:
How Are Ya' Fixed For Love
Middle of Love
Loads of Love
Let There Be Love
Where Is Love?
It's Love
That Tired Routine Called Love
Love Is a Necessary Evil
That Ole Devil Called Love
Take Love Easy
Down With Love/Hooray For Love medley
Something Like Love