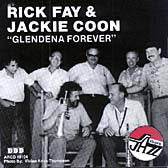 Rick Fay and Jackie Coon: Glendena Forever
Arbors Records
ARCD: 19104
Regular price $10.00 Sale
THIS CD IS OUT OF PRINT AND
AVAILABLE BY DIGITAL DOWNLOAD ONLY
For digital download of this CD, visit your preferred digital download website such as iTunes, Amazon Music, Google Play and More!
---
Musicians: Description:
THIS CD IS AVAILABLE BY DIGITAL DOWNLOAD ONLY
For digital download of this CD, visit websites such as iTunes, eMusic and other similar digital download websites.
Rick Fay and Jackie Coon demonstrate their "glendena" style, evoking memories of growing up in Glendale and Pasadena in hte late «40s, a testament to their friendship which will last "Forever". For thie recording, Jackie brought with him Eddie Erickson, Bob Phillips and Eddie Graham from California, while Rick added Orlando players Charlie Bornemann and Lee Richarson.
Selections:
At the Jazz Band Ball, Dinah, Yellow Dog Blues, Rosetta, One Hundred Years from Today.